MEDIA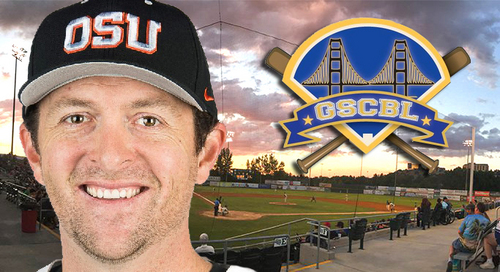 10/08/2019 12:23 PM
Article By: Rogues Public Relations
October 9, 2019 – MEDFORD, OR: Following a runner up finish in the Golden State Collegiate Baseball League, the Medford Rogues announced its new head coach today. Bill Rowe, an Ashland native and College World Series champion for the Oregon State Beavers will take over in the dugout for the Medford Rogues.
"I humbly accept the responsibilities given to me by the Medford Rogues and look forward to becoming a contributing member of the southern Oregon community once again." Said Rowe. who will be the 4th manager in the history of the organization. "I am excited about the opportunities my fellow coaches and I have to make a positive impact on players' lives and have a helping hand in creating an enjoyable fan experience."
Rowe comes to the Rogues with an extensive baseball background. He started his high school years playing for the Ashland Grizzlies. After a successful four seasons he continued to play college baseball at UC Santa Barbara. Following a transfer to Oregon State, Rowe found himself in the College World Series as a major contributor claiming all College World Series 1st team nomination. After his time at Oregon State, Rowe ended up in the Milwaukee Brewers organization where he hit .279 with 2 home runs and 23 runs batted in for Helena in the Pioneer League. Currently Bill is finishing his degree at Oregon State University and serves as an Undergraduate Assistant for the Beavers program.
"For us to find a coach with professional playing experience, local ties, and connections to so many college programs through his time at UC Santa Barbara and Oregon State, we feel that we have the right man to lead the Rogues not only for 2020 but well beyond." Rogues General Manager Dave May said. "After meeting with Coach Rowe and getting to know him through this process I am very confident that Rogue Nation will continue to build on the success it has had."
Rowe added: "We are blessed to have secured Parker Berberet as our associate head coach. A fellow Beaver and Brewer, Berberet's unique professional experience as both a pitcher and catcher are a perfect complement to my playing experience at first base and in the outfield. we are both very grateful and excited."
The Rogues have begun the recruiting process for the 2020 season. "I love the players that Coach Rowe and his staff are securing for our 2020 roster. We will have one of the most talented teams in franchise history." May said.