MEDIA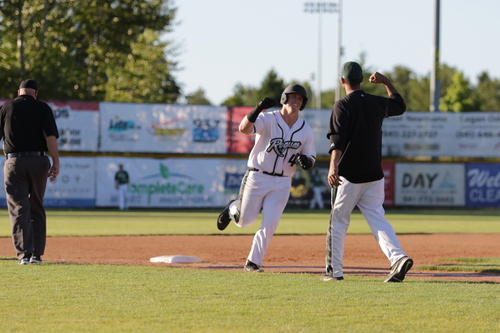 06/14/2019 9:21 PM
Article By: Corey McArthur
MEDFORD, Ore. – The Medford Rogues (13-2) defeated the Reno Rams (6-4) 10-3 on Thursday night at Harry & David Field.
The Rogues had seven doubles, which broke the franchise record set last year on the same date, June 14th against the Yuba-Sutter Gold Sox.
In the first inning, Caleb Broughton (Bucknell University) singled up the middle after the ball kicked off the left side of the mound and out of reach of Rams shortstop Chris Cook. Joe Johnson (Vanguard University) then grounded a ball up the middle that kicked off the right side of the mound and out of reach of Rams second baseman Jonny Damon. The ball split the outfielders in right center field, which scored Broughton and put Johnson at second base. Johnson would then score on an RBI ground out by Omar Ortiz (Vanguard University).
Later in the inning, Maxx Mahon (Vanguard University) crushed a ball to left field, but the stiff wind here at Harry & David Field knocked it down and held Mahon to a double off the wall. He would not be cheated in the third inning, as he blasted a three-run home run against the wind to the put the Rogues up by seven runs.
Grants Pass native Chris D'Amico (Presentation College) started on the mound for the Rogues; he went five innings and allowed just two earned runs to pick up his third win of the season.
Pitchers Harrison Grow (Lane Community College) and Dylan Meyers (Western Oregon University) made their Rogues debut tonight.
For the full box score: CLICK HERE
Tomorrow is the Diamond Dig at Harry & David Field, sponsored by Gold & Gems Fine Jewelry. They donated a diamond valued at $2,200 to be buried somewhere in our infield.
After the game, all participants who purchase a special Diamond Dig shovel for just $5 will be able to go onto the infield and dig around for the diamond. The fan who finds the diamond gets to take it home. All proceeds from the shovel sales benefits Gamerosity, a local organization with a mission to enrich and improve the lives of children living with cancer. Gamerosity is selling specially priced tickets on their website, which includes a seat on the Seven Feathers Triple Patio, ballpark food, and a shovel for the Diamond Dig. Those tickets can be purchased on Gamerosity's website.