MEDIA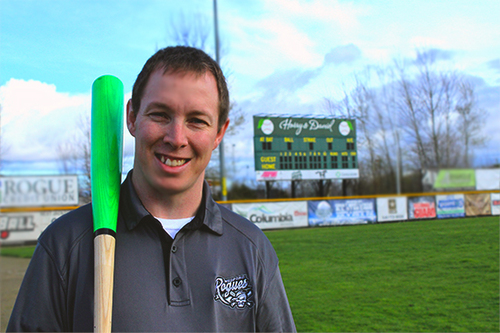 02/19/2019 10:22 AM
Article By: Jonathan Kurman
MEDFORD, OR: The Medford Rogues announced today that current General Manager of the organization Dave May has gained an ownership stake in the team. May will continue his role as the General Manager of the organization as well.
"It has been a lifelong dream of mine to work in the sports management field. For our owner Treg Scott to give me the opportunity to not only stay on with the organization in my previous role, but to continue to grow within the role of ownership is something I have always dreamed of," said May.
"I am excited for Dave to take on an ownership role. He's worked very hard in his 3 seasons with the Rogues and has made lots of progress. I think he and I will make an excellent team going forward," said Treg Scott, majority owner of the Medford Rogues.
Next week, the Medford Rogues will announce its 2019 schedule, which features a home slate of 33 games with 10 different teams making an appearance in Medford. Along with the release of the schedule, the 2019 promotional schedule will be released.
For season tickets please contact the Medford Rogues front office at (541) 973-2883 or send us an email.
---
The Rogues compete in the Golden State Collegiate Baseball League (GSCBL), an 8-team, wooden bat collegiate summer baseball league founded in 2012. The GSCBL is a showcase for top college-level players, giving professional baseball scouts a chance to see prospective pros playing against each other.
The GSCBL brings highly competitive collegiate baseball to mid-sized communities throughout the West while featuring affordable family entertainment. The GSCBL features franchises in California (Alameda, Petaluma, Sacramento, San Jose, San Francisco), Nevada (Reno) and Oregon (Medford). These franchises are the backbone of the Golden State League and its foundation now and in the future. All teams affiliated with the GSCBL showcase some of the top talent in the country.