MEDIA
01/14/2019 9:19 AM
Article By:
MEDFORD, OR: Medford Rogues Baseball Club are proud to announce the hiring of new head coach, Sean Gallagher, to lead the team in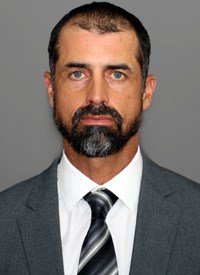 2019.
Gallagher, a former NCAA D1 Catcher at New Mexico State, spent 2018 as the hitting and pitching coach at Davis and Elkins College in West Virginia. Locally, Gallagher coached the St. Mary's High School baseball team to a 2017 3A State Championship. He was named 'Baseball Coach of the Year' in 2017 by the Oregon Athletic Coaches Association and is a three-time Coach of the Year in the 3A Southern Cascade League. From 2012 to 2017, Gallagher compiled a 106-37 record at St. Mary's. He's also the owner of Playball Prospects and the Gashouse indoor facility.
"As coach, I plan to help redefine the identity of our team by bringing big energy to the field and giving our players all the freedom to push the limits of their capabilities," Sean Gallagher, new Medford Rogues Head Coach said. "We will push the pace of the game with a style of play that will enhance the overall baseball experience for fans and players alike."
Gallagher replaces Tyler Graham as the manager of the Rogues, who spent one season as head coach.
"Sean is a well-respected baseball man in our community," Dave May, Medford Rogues COO said. "Once we met with him we saw his vision not only for the Rogues but for baseball in Southern Oregon it was an easy selection."
"I'm very excited to bring Sean Gallagher on as our head coach. Simply stated, he cares more about the game and the players he coaches than anyone I've ever met, which made this a easy decision." Said Treg Scott owner of the Medford Rogues. "In this age of the home run or bust approach to the baseball, Sean is a refreshing change and I think Rogues fans will appreciate the fun and excitement he will bring to the park this season."
"I think the timing is right for us with our mission of working with our local community to bring in a local coach, local ownership, and a local Chief Operating Officer," May added. "Our brand of baseball we plan to bring to Harry and David Field will be better than ever, and we are excited to have Sean leading that mission."
---

To keep up with all the latest team news and information, like the Medford Rogues on Facebook and follow us @MedfordRogues on Twitter and Instagram!

For more information about 2019 season ticket packages call 541-973-2883 or visit www.medfordrogues.com/tickets/season-tickets