2018 ROGUES COACHING STAFF
---
TYLER GRAHAM - Manager

Coach Graham, 33, was named the second manager in team history on October 20, 2017.

An Oregon State University alumnus, he is in his fourth season working with the Beavers baseball program and spent two years as an undergraduate assistant coach prior to becoming the Director of Player Development.

He lettered played at OSU from 2003-06, where he helped guide the Beavers to a national championship his senior season. OSU also won back-to-back Pac-10 titles, in 2005 and 2006. Graham played in 151 games for the Beavers, batting .317 with 10 doubles, two triples, one home run and 51 RBI's. He also stole 39 bases, ranking tied for ninth in Oregon State history.

Drafted in the 19th round of the 2006 MLB Draft by the San Francisco Giants, he made his MLB debut with the Arizona Diamondbacks in 2012 where he appeared in 10 games. Graham finished his professional career in 2014 with 264 stolen bases and a .272 average with 21 home runs and 216 runs batted in.

Graham, a native of Great Falls, Montana, joins the Rogues after going 68-17 in two seasons as head coach with the Okotoks Dawgs of the Western Baseball League (2016-2017).

---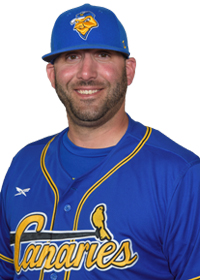 LANDON DANELSON - Assistant Coach

Landon spent the 2017 season coaching professionally as the third baseball coach and bench coach for the Sioux Falls Canaries (American Association). He also served as the General Manager and Head Coach of the Sioux Falls Pilots, a summer collegiate baseball in the Corb Belt League. He has coached at Bethany Lutheran College , Minnesota State , Oklahoma Panhandle State and at Augustana University

Danelson enjoyed a successful playing career at Minnesota State, where he was a two-year starter and letterwinner for the Maverick baseball team. In his senior season, Danelson blasted nine home runs and recorded 11 doubles, 41 RBI's and 36 runs and was named to All-North Central Conference.

Prior to Minnesota State, Danelson played two years at Miles Community College. He left holding school records in almost all hitting statistical categories for the Pioneers, including career batting average, single-season slugging percentage, career slugging percentage, single-season and career home runs, single season and career RBI's, and career total bases (217). He was a two-time All-Mon-Dak Conference selection.

A native of Great Falls, Montana, Danelson earned a bachelor's degree in sports management from Minnesota State in 2006.

---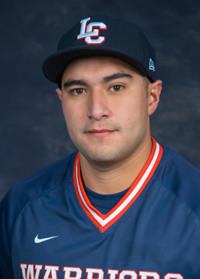 ANTHONY BALDERAS - Pitching Coach

Anthony is in his first year as an assistant coach at Lewis Clark State College.

He played two seasons at LCSC, appearing in 31 games going 7-2 while winning back to back NAIA National Championships. As a senior, he was third on the team with a 2.27 ERA with 47 strikeouts in 39.2 innings pitched.

During the summer, he played for Coach Graham with the Okotoks Dawgs in 2016 and 2017

Prior to coming to LCSC, he played for Palomar College where he was a two-way player.
---